We have a winning family recipe! Woo hoo! A meal that everyone in the house likes!It takes 20 minutes from Thermomix to table. It's full of vegetables and the kids wont even notice!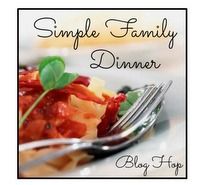 If you don't have a Thermomixer but are looking for inspiration for simple family dinners, I've teamed up with some awesome blogs and we are each sharing a meal and pinning some of our favourites! You can find the blogs participating at the bottom of this post.
Simple Family Dinner Blog Hop
(I have adapted the Pasta with Tuna recipe in the EDC book (Everyday Cooking) on page 88, to include vegetables).
Thermomix Tuna Pasta with Hidden Vegetables
1 zucchini roughly chopped / 4 small courgettes
2 Tbsp TM Chicken Stock Concentrate
Grate lemon zest and Parmesan cheese and set aside Speed 8...10-15 seconds
Chop garlic Speed 7...5 seconds
Add capsicum and zucchini, chop Speed 5...3 seconds
Scrape down sides of the bowl, add oil and saute 100C...2 minutes...Speed 1
Add tomatoes, wine, water and stock. Cook 100C...10 minutes...Speed 1
Add pasta and tuna. Cook 100C...10-12 minutes...Reverse + Speed soft
Place into the Thermoserver and let sit with the lid on for 5 minutes before serving into bowls.
Sprinkle cheese mix over the top.
I love putting a layer of baby spinach in the base of the Thermoserver before pouring the Tuna Pasta into it. I then scoop out the children's meals from the top. After they are served I stir the spinach through the rest of the pasta for the adults (see picture).
Enchanted Homeschooling Mom
|
Inspired by Family
|
Sun Scholars
|
This Reading Mama
|
Life by Ashley Pichea
|
In Culture Parent
|
Raising Life Long Learners
|
Glittering Muffins
|
Life at the Zoo
|
Octavia and Vicky
|
Kid World Citizen
|
Kitchen Counter Chronicles
|
Nomad Parents
|
Childhood 101
|
Triple T Mum
|
Adventures in Mommydom
|
The Freckled Homeschooler
|
Teach Beside Me
|
The Chirping Moms
|
Discovering the World Through My Son's Eyes
|
So You Call Yourself a Homeschooler
|
Pickle Bums
|
The European Mama
|
The Golden Gleam
|
Forever, For Always, No Matter What
|
Motherhood on a Dime
|
Harrington Harmonies
|
Rainy Day Mum
|
Jenni Fischer
|
Cakes and Sribbles
|
Toddling Into Madness
|
Mermaids' Makings
|
Mud Hut Mama
|
Here Come the Girls
|
All Done Monkey
|
Small Potatoes
|
Little Artists